If you're trying to figure out how to create a website or blog without any professional web designing skills, technical experience or having to learn HTML, I created this post to show you the quickest and easiest way to get things set up and ready to roll in a matter of minutes.
Trust me, this is nowhere near as hard as it used to be. It's actually quite simple really.
The first order of business when starting a website is to choose a blogging platform, and there are plenty to choose from these days from WordPress, to Squarespace, to WIX, to Weebly, and the list goes on. But not all platforms are created equal, some don't offer as many features as others, and when it comes to building a great website you want as many high-quality features as you can get.
Unless you're willing to spend some money upfront, you're most likely looking for free options (I know I was when I first started building websites). There are definitely some nice paid themes out there, and if it's something you choose to go with down the road, I highly recommend StudioPress themes.
For now, we'll go at this from the angle of the best way to start a site for FREE.
Before you install or download anything, it's a good idea to read through this post entirely to get a clear idea of how the pieces fit together and the direction you want to take, as well as tips that will ensure you get the most out of your experience and save you from trouble during set up or down the road.
Choosing a Blogging Platform
To get the most out of your website or blog, here's what to look for in a blogging platform:
FREE, including themes, layouts, and add-on options
Easy and fast to set up and work with – no coding involved
Responsive and mobile ready (as much as 50% of web browsing is happening on all sorts of devices these days)
Lots of designs to choose from, along with highly customizable features, and access to a nice variety of plug-ins
SEO (search engine) friendly
Security and protection against hacking, spam, malware, and other malicious activity
To make things easier, I've narrowed it down to the top 2 blogging platforms that offer all of these features and I personally use for my own websites.
WordPress.org
With a longstanding reputation of being a favorite of many website builders, WordPress is the most popular blogging platform and includes all of the above. It's important to point out that there are actually two different WordPress platforms.
My goal is to help you avoid the common mistake of building your website on the one you will have less control over, saving you the hassle of eventually needing to switch to the platform with more features and allows you to be in full control of your website. And trust me, you will, especially if you plan on monetizing your site.
That said, your best option is the open source platform WordPress.org which allows you to build your blog or website how you want. You will need to self-host your blog this way, which is what you want with WordPress in order to be in full control, after all, your website is your piece of real estate on the internet.
To self-host this type of website, BlueHost offers fast, reliable, and affordable hosting for $2.95 per month including a FREE domain name (which typically costs up to $15), an easy WordPress installation process, and 24/7 support.
Tip: To help save time, I've narrowed down some top free WordPress themes with great features and designs that are easy to customize.
The other option is WordPress.com which comes with limitations as to what you can do, including use of affiliate links and ads to monetize your site. With this option, you don't technically have control over, or own your blog, and your account can be suspended at any time if it's considered to be in violation of their terms of service.
SiteRubix.com
SiteRubix is a website builder using the WordPress platform, so you have access to the same great themes and features. You can use instant website setup (no domain required) to create 2 fully functional websites within minutes. These include all of the above features and free fast and reliable hosting with excellent 24/7 support.
And because it's powered by WealthyAffiliate.com you also have free access to the best training, tools, and support to help you build a profitable online business.
Since this is totally free, hosting and all, your website will use the extension siterubix.com, for example yourwebsite.siterubix.com instead of a purchased domain yourwebsite.com, and you will have access to 12 themes to choose from, all pre-installed with 5 of the most powerful plugins. However, Siterubix does not come with limitations like WordPress.com.
If you plan on having a website long term, you'll eventually want to have your own domain name for a more competitive edge and branding. But if you're looking to blog as more of a hobby and don't care if it's successful or not, you could keep the free subdomain indefinitely.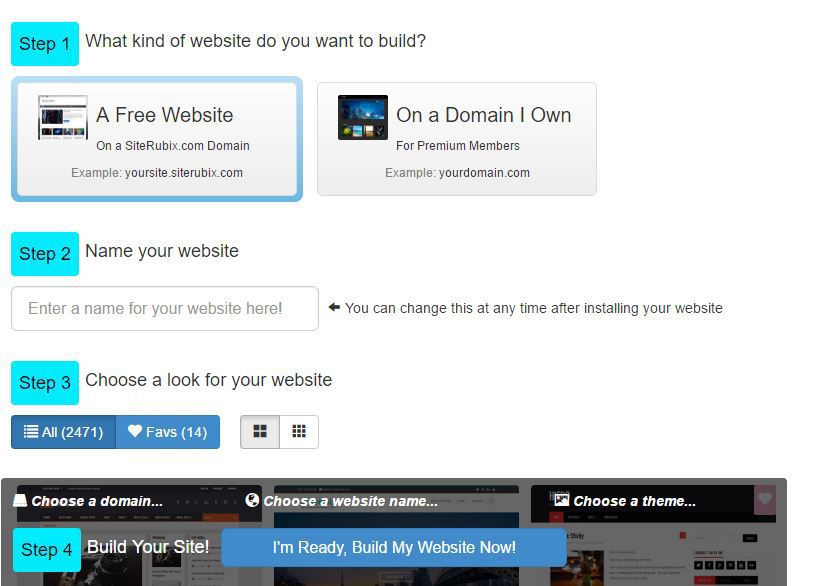 This is actually how I started my first website, and is a great option to get your feet wet and practice creating and maintaining a website or blog at first. If you make a mistake initially or decide you want to change your niche, you have the flexibility to delete and install a new website, or both, however many times you like.
Besides, your domain name is something you want to be happy with indefinitely, so I found that starting a siterubix.com first, allowed me to be sure about my domain name before I finally purchased it, at which point I moved my siterubix.com over to my .com. From that point on, I've used the premium version of the Siterubix platform for all of my websites.
The other nice thing is that when you decide you're ready to purchase your domain, you can upgrade to premium, purchase your domain directly through Wealthy Affiliate, and have access to hosting up to 50 websites with over 2400 theme options, over 45,000 plugins, unlimited email accounts, free SSL, premium monitoring and security, and 24/7 support.
Plus on top of the access you already have to the free training,  you'll now have unlimited access to every training course, webinar, tutorial, 24/7 live chat and support.
The free option is awesome for those who want to "try on" a website or blog and some free training to see if having an online business is for them – no strings attached. The premium option is for those who are totally settled on a niche topic and domain for their website, ready to get hosting and are looking for everything on one platform – plus education, tools, and support.
Your Turn!
It's super easy to create a website these days, so if it's something you've been pondering, I recommend you give it a go. You really don't have anything to lose, especially since I've shared with you the best free options that make it super simple to get started, and hopefully you'll discover you love blogging as much as I do =) Happy blogging!
If you have any questions, or thoughts to share, please leave them in the section below!